What's on when
Community Activities Programme

Get active, learn new skills, find support and meet other local people by becoming an Abbey member and participating in our Community Activities Programme. 
In an age when social ties have weakened because of the demands of modern life, our activities satisfy a thirst for connections and neighbourly support. We have groups for all ages, groups specifically for those aged 50+, and groups just for men. Some allow you to attend whenever you fancy and some are term-time only courses you can join, with partners from adult education providers such as Camden Adult Community Learning. We also occasionally run one-off events, trips and socials for members. All activities are free or very low cost and all you need to do to attend is become a member of the Abbey through a quick registration process. This is also free.
Please get in touch if you have a disability and would like to talk about your access needs. Some Abbey members attend activities with their carer or support worker. The centre and all its rooms are fully wheelchair accessible and we have a disabled bathroom.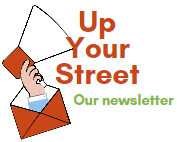 Check out our Programme Guide to the right - this gives an overview of the free and low-cost activities we usually have running at Abbey. See what you're interested in, then check current times and dates on this month's timetable. You can also click the button to the right to read our latest newsletter.